PDR Remove and Replace Modules
Removing and Replacing Parts are an important skill to have acquired or to acquire over time. Not only can it affect safety but it can also impact on the final quality and comebacks of the job. Furthermore, breakage of parts can be costly so a knowledge of so many skills can go a long way in the PDR process.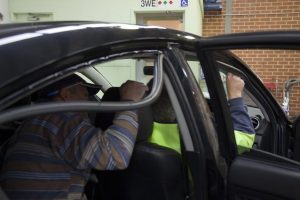 Although it is not a pre-requisite it certainly assists in understanding the access points, the structure and barriers for access and the removal and replacement of parts.
Knowledge of cars puts tradespeople such as panel beaters, spray painters and mechanics puts them at an advantage in terms of knowledge of vehicles and associated parts. Not only do they have the skills, but they have the knowledge of so many different techniques associated with different models and makes of vehicles. There is simply no substitute for experience.
However, it is not essential to do well in paintless dent removal. Many years back, we trained a banker who had no prior knowledge in cars whatsoever. He was about to have his job in the bank obsolete and had to think well ahead of a career change. How did he do? Exceptionally well! He outperformed the beater and the touch up person! He had everything to gain and nothing to lose but to do well and listen to every detailed instruction – perhaps he was soft and more gentle on the dents. Nevertheless, please do not feel put off by not having the prior qualifications. Having said this, we had to train from scratch even the basics for this banker in remove and replace and there are a lot of years ahead for him to learn.
Remove and replace can mean removing and replacing anything from rear lights, to trims, hood lining and even the bonnet. There are procedures in place and these modules will be put in play here.